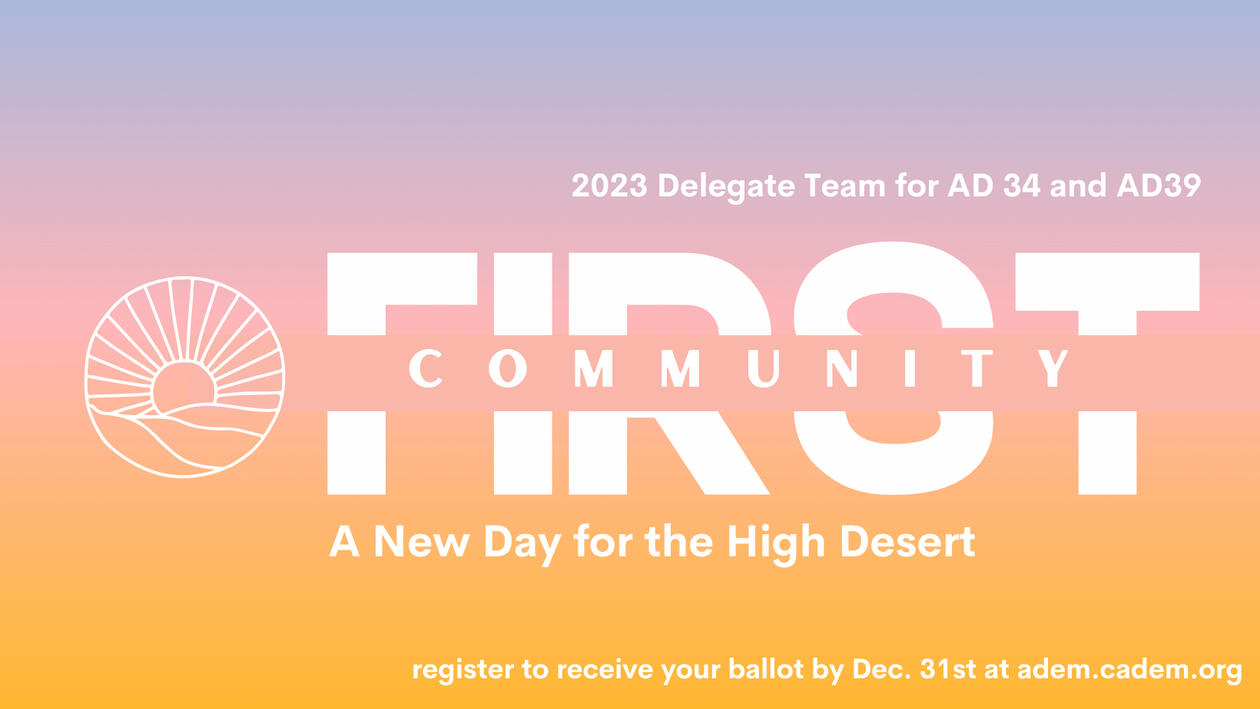 What are Delegates?
Delegates are representatives of each Assembly District to the CA Democratic Party. They are elected every 2 years & endorse candidates, vote for party officers, and vote on resolutions to the party platform.
Registered Democrats can vote for 7 women (self-identified female) and 7 men (other than self-identified female), for a total of 14 delegates for their Assembly District.
Mission Statement
Our mission is to be responsive ambassadors between the community and the California Democratic Party, working to build unity and strengthen voter engagement in the High Desert. We strive to intentionally empower and engage our youth and other marginalized groups to create lasting change. Community First's candidates are High Desert labor & education leaders, as well as political and social activists & organizers.We value the intersectional diversity of our community and we'll prioritize listening and supporting those voices to be truly representative delegates. Delegates have a responsibility to show up and be active participants, setting an example for fellow Democrats. We are committed to building on our work, activating the collective power of our community, and continuing to make a positive impact in the High Desert.
Our Promise
Be active participants and leaders.

Make time to meet with and hear out our candidates during endorsement season.

Proudly show up at community & volunteer events.

Attend Democratic Club meetings regularly.

Support and hold Democratic incumbants & candidates accountable.
What AD am I in?
Do you have questions about which AD (Assembly District) you live in? If so, click the link below to look it up; if not, request your ballot in VOTING section.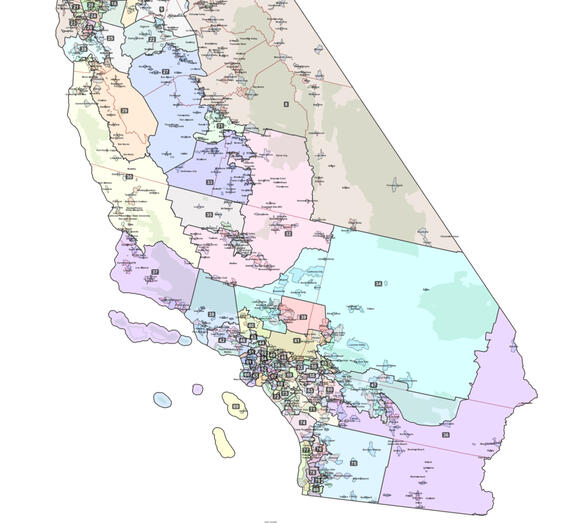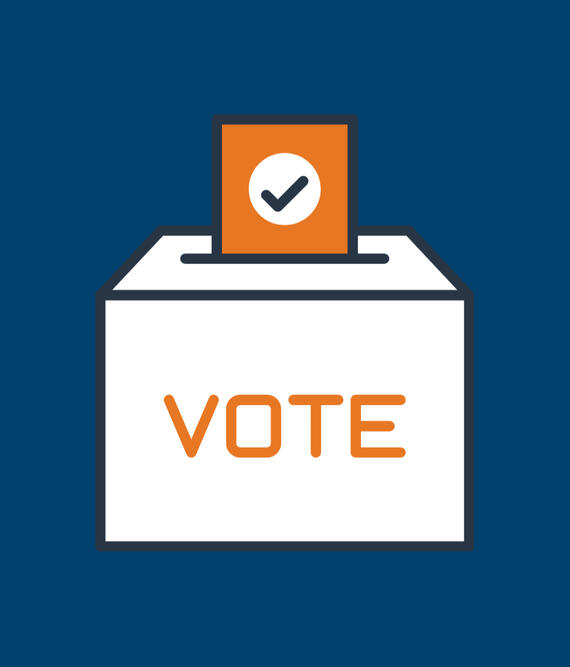 VOTING
The deadline to request your vote -by-mail ballot was December 31st, 2022. Please be sure to submit your ballot by January 22, 2023.Register to vote in person by January 22, 2023.
ELECTION DAY IS JANUARY 21st!
AD34 Team Members
#25 - Kim Watson - SIF

#30 - Samantha Herrador - SIF

#28 - Lourdes Everett - SIF

#29 - Anne Phillips - SIF

#31 - Connie Slaughter - SIF

#17 - Giovanni Pope - OSIF

#32 - Joey Klascius - OSIF

#16 - Scott Lee - OSIF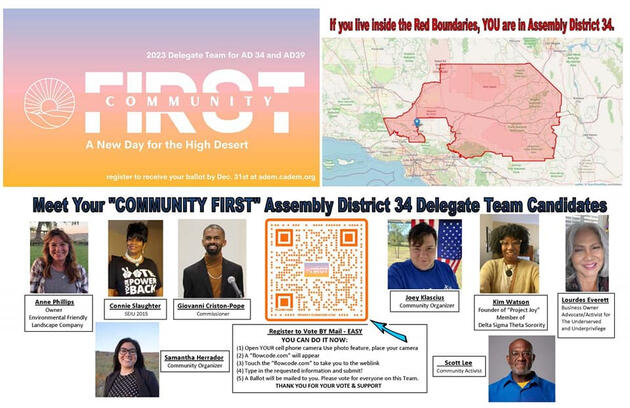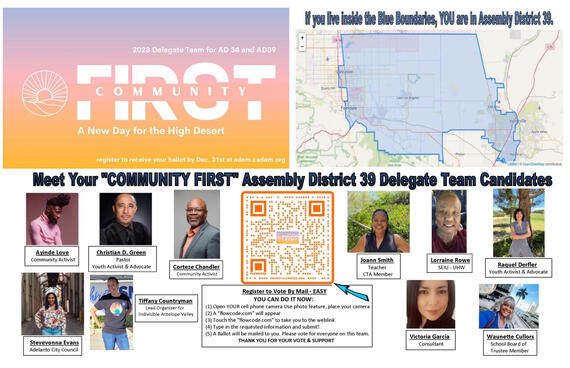 AD39 Team Members
#1 - Tiffany Countryman - SIF

#20 - Joann Smith - SIF

#27 - Victoria Garcia - SIF

#16 - Lorraine Rowe - SIF

#23 - Raquel Derfler - SIF

#12 - Waunette Cullors - SIF

#24 - Stevevonna Evans - SIF

#25 - Christian Green - OSIF

#26 - Cortez Chandler - OSIF

#28 - Ayinde Love - OSIF
Thank you for being part of the Democratic process!
© Untitled. All rights reserved.